Of course we all have day jobs, families and other things going on.
Playing the music is our passion and the following bios focus on that. We all acknowledge and give special thanks to our wives, children and supporters who continue to allow us this opportunity to perform.
– Sawdust Symphony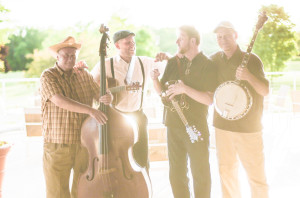 Greg Brundage-Guitar, Vocals,
Mike Mueller-Banjo, Vocals,
Jim Price-Mandolin, Vocals
Bruce Royal – Upright Bass.
Heather Lewin – Fiddle

Our band frontman, Greg Brundage is proof in the saying "the acorn doesn't fall far from the tree". Greg graduated in 1996 with a degree in Music Education from the Illinois State University as a classically trained cellist. He started cello in 1980 in his younger days.  In 1991 he turned to guitar where he played with Tommy Wu and the Funky Backwoods Boys – 1992-94.
Greg returned to the stage as co-founder of the Sawdust Symphony and gets the credit for our namesake.  A fantastic guitarist and vocalist offering much in style and musical knowledge, he's a not-to-miss, on your favorites list.
•
Mueller started playing banjo in 1972 at UW Stevens Point where he played with OTIS AND THE ALLIGATORS (formerly WHETSTONE BRIDGE) until 1979.  During his Stevens Point days, and during the 80's and 90's, he played in a variety of venues with many fine guitarists in the Milwaukee area.  During 1980-86 he played banjo with Al Brundage (Greg's Dad) and the CAHOOTS in Milwuakee.  His continued study includes work with Peter Wernick, J.D. Crowe, and Bill Evans to name a few.
Mike has developed a strong rhythm and smoothness in his attack and demonstrates an imaginative visualization of  fretboard real estate.  As another co-founder of the Sawgrass Symphony he also gives banjo lessons at his home in Mequon Wisconsin.
•
A Grafton native, JP has developed enough instrumental chops to become one of the area's most truncated sidemen since his 'Grass, Food & Lodging days.  Frequently called on by groups who've lost a "chopstick" JP perilously supplies mandolin, guitar, and/or vocals to the amazement of all and the bemusement of a few.
From career beginnings on, he would attempt the instrument no one else in the group enjoyed – and still does. As a fan once described the experience, "You ain't heard nothing!"
And that, my friend, is the definitve.
After years and years on the road, extirpating relationships, the likes of Vince Gill, Ricky Skaggs, Buddy Griffin, Jessie McReynolds, John Parrot, Sam Bush, Vassar Clemmens, Ben Schubert, Bob Shane, Katie Lauer, John Hartford and yes, even the great Jethro Burns – JP has confronted them all – briefly – but that's sufficient for the man who covets his privacy
to the exclusion of frequent appearances.    –   It's all true.
•
Bruce Royal King of Wauwatosa, WI graduated from Ripon College in 2015 with major(s) in Music and a minor in Educational Studies . The son of mandolinist Bruce King from Art Stevonson's band, Bruce was basically weaned on music.  Newly starting a career as a Music Teacher, he teaches and plays a bit of everything – and we mean e v e r y t h i n g. We're fortunate to add his bass and vocal skills to the Symphony. With his help, we may someday become actual musicians.
•
A resident of West Allis, WI, Heather Lewin is Milwaukee's 'Fiddler of Choice' to provide that sweet string sound. A 2005 graduate of UW-Milwaukee in Anthropology and Celtic Arts, she currently teaches Violin, Viola and Cello at Brass Bell Music, The Family Music Center, The Milwaukee Irish Fest School of Music and the Tamarack Waldorf School. Her affiliated musical performances include: the Bristol Renaissance Faire, Lumberhorn, the Central Wisconsin Symphony (cellist), Liver Killers, Cream City Feis, Brewtown Brewgrass, Daryland's finest String Band, Athas, Haulin' Goats, and Derik Pritzi & the Gamble. When she has the time and we have the venue, she's first chair fiddle with our own Sawdust Symphony.
•
In his retirement transition, our sometimes bassist, John Losiniecki started with ragtime piano as a teen by watching his Dad, who taught himself how to play – by watching a player piano! The Movie 'Deliverance' was the impetus that brought him to bluegrass. Years later, moving to Madison and living with Glen Asch, a classical Violinist, he picked up the fiddle. Over the years he's had the great opportunity to visit with Vassar Clements, Kenny Baker and Bill Monroe, all generous with their time and encouragement. John learned his musical craft at Camp Edwards in East Troy attending the String-Along weekends.
He also started to play guitar and banjo at that time.  John has played with Pickin Up Speed, No Brakes, Red Star Express, Rainbow County and Tera Planes from the Madison area. He currently plays with the Cayuse Cowboys, Mud River Lee and,
of course, the Sawdust Symphony. A former Technical educator for M.P.S., John thanks his family and friends
for all the support over the years, and hopes to see all of you down the road.